Perched on the edge of Reynisfjara beach, the Reynisdrangar basalt sea stacks are one of Iceland's must-see spots. Here's what you need to know.

So you're planning a trip to the Reynisdrangar basalt sea stacks? You should be.
These dramatic basalt columns on the edge of the famous Reynisfjara black sand beach are yet another one of Iceland's incredible landscapes.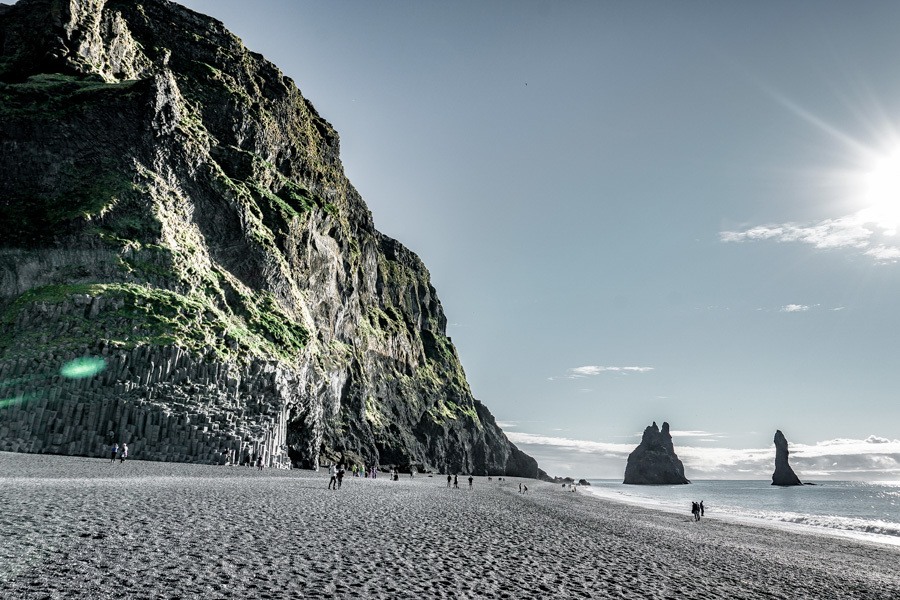 The beach and the sea stacks are pretty much the reason the nearby village of Vik is such a hotspot on visitors' Icelandic travel route.
For good reason. You'd think that after seeing awesome waterfalls, glacial lagoons and the Northern Lights, you'd be all out of wonder. Incorrect.
The sea stacks were one of my favourite spots because it's almost impossible to believe that they're not man-made (they're really not).
If you're heading to Reynisdrangar sea cliffs, this is what you need to know.
Why Visit Reynisdrangar Cliffs?
Why should you visit the Reynisdrangar cliffs? Put simply, because they're one of Iceland's most bizarre but beautiful natural attractions.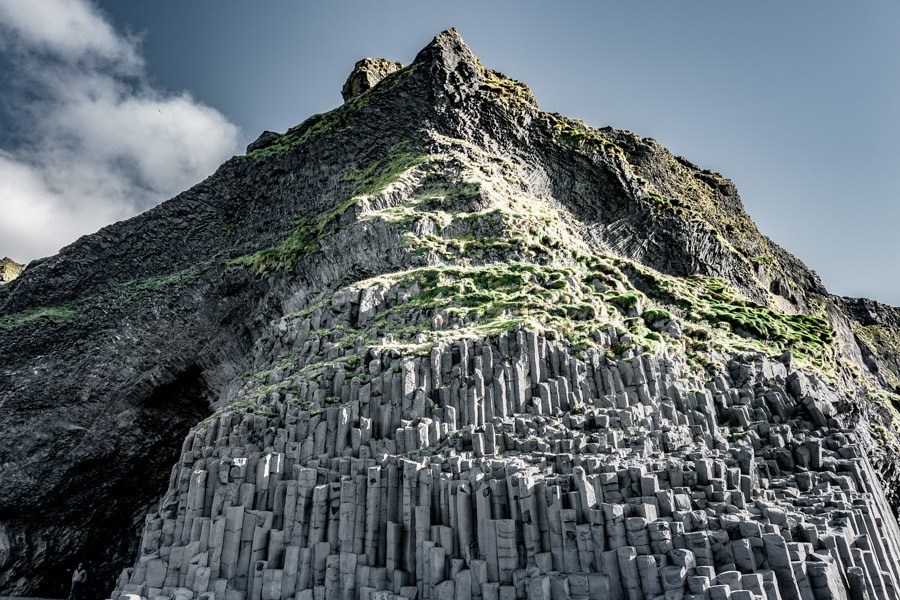 As if that's not enough, their location on the Reynisfjara black sand beach is a photo opportunity that's too good to pass up. The cliffs are a true highlight on any Southern Iceland itinerary.
The Reynisdrangar columns are actually a series of three stacks: Langsamur, Landdrangur and the third, which is called Skessudrangur or Háidrangur depending on who you talk to.
Langsamur is the largest of the three. Its three peaks and pyramid formation means that people often say it looks like a ship. I can see it, can you?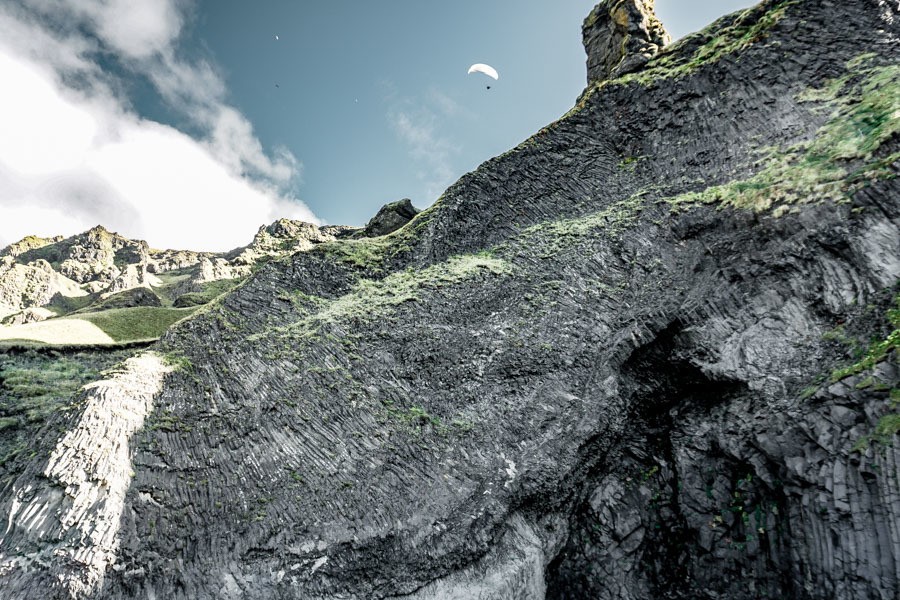 The second stack, Landdrangur is the one that's nearest to the beach itself, while Skessudrangur / Háidrangur is the smallest.
You can always count on the Icelandic for a good joke – Skessudrangur or Háidrangur stem from the Icelandic words for large and enormous. Of course that's what they named the smallest stack.
Oh yeah, and between May and August each year, the cliffs are the nesting site for cuter-than-cute puffins. Be careful if you climb on the cliffs during the puffin season.
Beware – the waves on the beach can be very dangerous. Sneaker waves, which come in unexpectedly, have caused more than one death on Reynisfjara. You should stay at least 30m from the shore at all times. Never turn your back on the waves either.

What Causes The Basalt Sea Stacks?
The Reynisdrangar rock formations were formed by fast-flowing lava from a nearby volcano. As the lava cooled, it formed these impressive columnar stacks – a process called columnar jointing.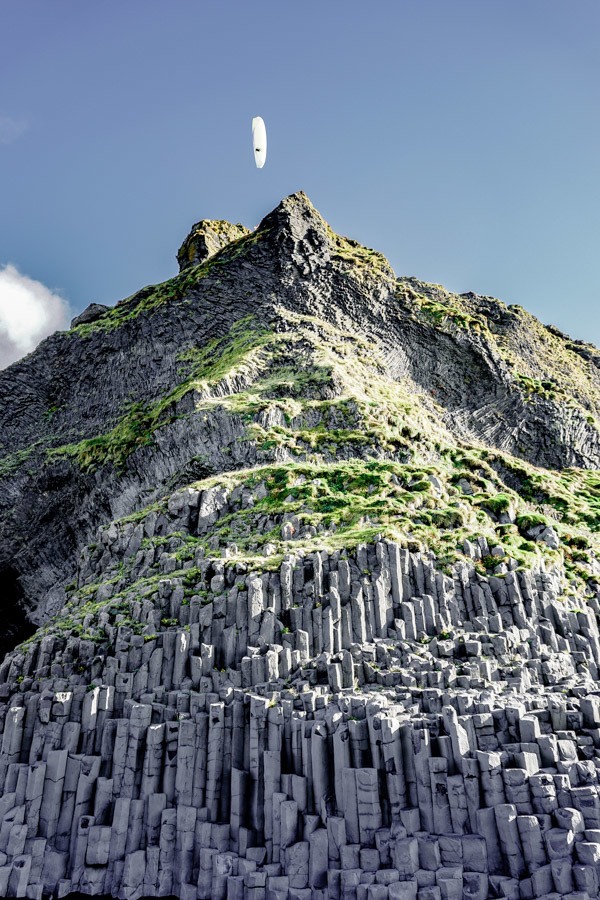 Now I'm not going to get too technical because this is a travel piece and not a science essay but… sometimes nature is so cool right?
The Reynisdrangar columns used to be part of a much larger mountain range but, thanks to millenia of erosion, have been left standing on their own. The erosion still continues today – who knows what they'll look like in a thousand years!
What's The Reynisdrangar Legend?
Now we wouldn't be in Iceland without a good legend or two thrown in. The Reynisdrangar cliffs make an appearance in Icelandic folklore in a rather curious story.
Legend has it that two trolls battled with a large three-masted ship. The trolls were so preoccupied in the battle that they didn't realise the sun was about to come up.
They turned into stone the moment the sun's rays hit them – trapped for eternity along with the ship in the form of the cliffs. (I'll leave any fans of J.R.R Tolkien's The Hobbit to make the connection).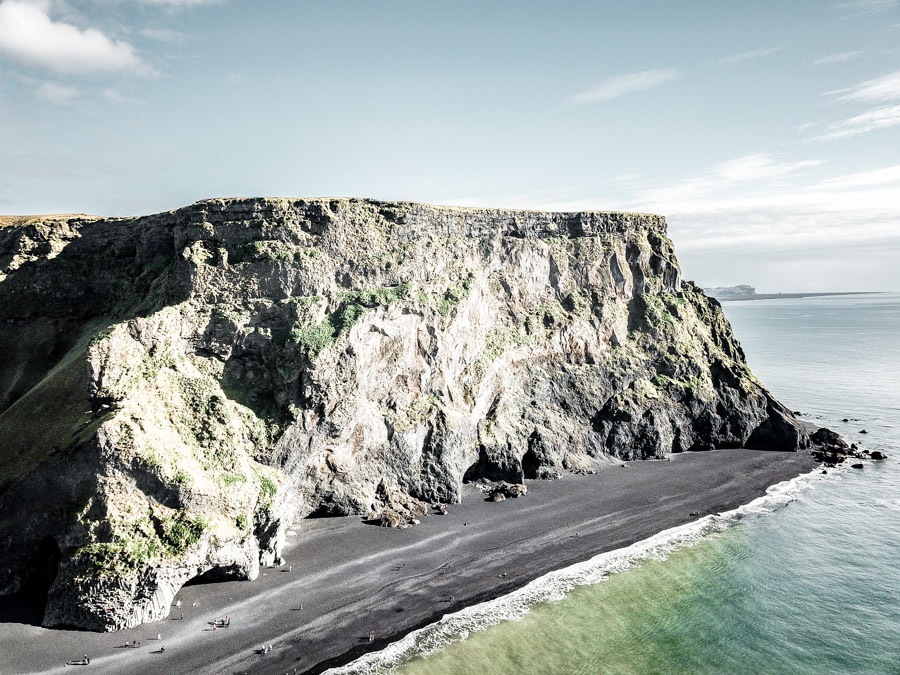 That will teach those pesky trolls. They do make a good picture though.
What's More it's a Filming Location for Game of Thrones
Regular readers will know that I'm a huge Game of Thrones fan (obsessed? Perhaps) – so it was kind of cool that Reynisdrangar pop up in the legendary hit series.
Cast your mind back and you might remember them making a rather moody appearance as Eastwatch by the Sea in series 7.
Sightings of Jon Snow aka Kit Harington (unfortunately) not guaranteed.

How Can I Visit Reynisdrangar?
Independently
It's easy to travel to Reynisdrangar and Reynisfjara – both are located a short distance off of the ever-famous Iceland ring road.
If you're heading to the area, don't miss nearby sights such as Dyrholaey, Vik, the Solheimasandur Plane Wreck and Landmannalaugar.

On a Tour
Pretty much every tour of Southern Iceland will stop at Reynisdrangar and Reynisfjara. You can take a tour from Reykjavik or organise one from nearby Vik.

Check all tours of Southern Iceland.

Where to Stay Near Reynisdrangar
Most nearby accommodation is located in Vik. Beware, Vik is heaving – particularly in the summer months. Book as far ahead as you can.
Outside of the town and a much quieter option, the cool Black Beach Suites offer self-catering amenities and cool design plus very cool views.
Check prices, reviews and availability for Black Beach Suites.
Quite a bit further away, but a great base for exploring southern Iceland, Hotel Ranga is one of my favourite hotels. Expect comfortable luxe accommodation, delicious food and a Northern Lights wake up call (if you visit during the right season).
Check prices, reviews and availability for Hotel Ranga
Need to Know: Practical Information for Your Visit to Reynisdrangar
Address
Route 215, Vik, Iceland
Parking and Facilities
There's a free car park with a restaurant (and toilets) within a very short distance of the cliffs.
Getting to Reynisdrangar from Reykjavik
It's about 180km (112 miles) outside of Reykjavik, which is roughy 2.5 hours driving time.

Reynisdrangar Map
Save for later on Pinterest! Or follow me for lots of travel inspiration, tips and advice!